House Competitions
St. Olave's is divided up into four different houses. On entry to the school in Year 7 or Year 12 all pupils will be allocated to a house. Throughout the school year a wide range of house competitions take place which test the sporting, cultural and intellectual brilliance of students of all year groups, fostering collaboration within - and healthy competition between - the different houses.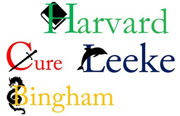 The winning house in any given competition receives 100 points, second place receives 75, third place receives 50 and fourth place, 25. Points may also be won by personal endeavour in a wide range of other areas.  The school also holds events three times a year, where point values are doubled (e.g. Festival, O Factor & Sports Day). Points represent the ongoing and regularly updated aggregate of the house points for this academic year.
Earning points for your house throughout the year is an important way of showing dedication and commitment to the strong culture and values underpinning the school. The house system is also an enjoyable means of fostering collaborative and competitive endeavour across all year groups in a range of cultural, sporting and academic disciplines throughout the course of the school year.
How points are awarded throughout school
House Point totals to date: 2023-2024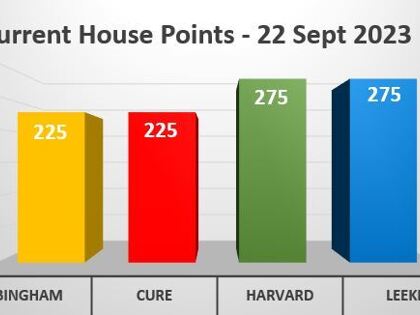 Each of the four houses is named after one of the founders, early benefactors or governors of the School
Bingham (Yellow)
John Bingham was a governor of the school in 1607. His elaborate memorial in Southwark cathedral includes an ornate dragon; it is this golden dragon, included in the logo, that serves as a reminder of John Bingham and connotes feelings of power and determination for members of Bingham house.
Cure (Red)
Thomas Cure, MP for Southwark, lived in a house adjoining Saint Saviour's church in the late Sixteenth century and his rent helped to fund our fledgling grammar school. He used as a personal symbol the East Grinstead coat of arms which includes a prominent sword; this element is included in the house logo to represent the honourable nature and deep history of Cure house.
Harvard (Green)
The Harvard logo serves as a reminder to students of the strong connection with Harvard University and of our shared interest in advanced scholarly endeavour. John Harvard, after whom the prestigious American university was named, attended St. Saviour's Grammar School at Southwark in the early Seventeenth Century, and his father Robert Harvard was one of our School's earliest governors.
Leeke (Blue)
Henry Leeke, a Southwark brewer, left a will in 1561 which gave £8 a year towards the founding and maintenance of a new free school. His original benefaction enabled the establishment of St. Olave's. His brewery and inn was called "The Dolphin" and this symbol of Leeke house connotes the care and intelligence of the house's members.
---
| Archive Overall Winners |   |
| --- | --- |
| 2022/23 | HARVARD |
| 2021/22 | HARVARD |
| 2019/20 | HARVARD |
| 2018/19 | HARVARD |
| 2017/18 | LEEKE |
| 2016/17 | CURE |